Sensual Yoga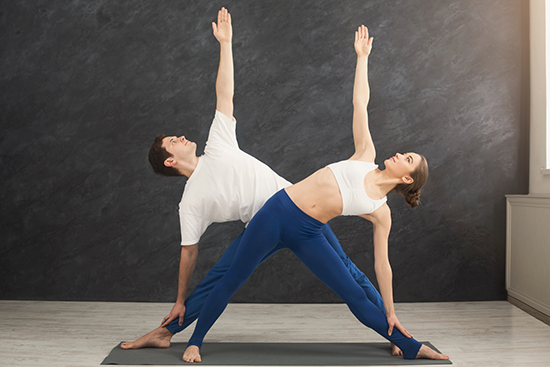 Physical touch is actually a special language; a dance between all couples, partners and relationships. At Lifestyle Consulting Services, we teach the hidden language of this dance individually, with couples and in a small class format through a specialized variation of yoga we developed, "Sensual" Yoga. Words do not always have to be spoken to communicate and Sensual Yoga is the erotic movement of language that can sometimes be expressed in addition to the spoken word.
Lifestyle Consulting Services teaches this in a graceful, non-intimidating and comfortable way. All movements are explained as well as demonstrated, and then put into practice so there is no doubt that you have it right for you. As with any of this type of exercise, there is no right or wrong, just different ways individuals will express something to provide a result that works for them personally.
Note: Sensual Yoga is not to be misconstrued or implied to be explicit or sexual in nature. Individuals are fully-dressed; wearing decent, proper and appropriate workout attire. There is no inappropriate activity or action in these exercises.
Lifestyle Consulting Services will gracefully guide you and your partner through your own personal transformational process. It will deepen and strengthen your existing relationship within yourself and your partner.
Sensual Yoga places an emphasis on Healing and is redemptive with all relationships, including that of one's self. It can be adapted to any environment. It works with all facets of the physical, mental, emotional and spiritual bodies to allow for a complete whole-body experience.
Lifestyle Consulting Services created this form of Yoga to bridge the gaps where actual verbal lines of communication are ineffective or broken down. By utilizing unspoken communication, this Yoga variation allows individuals to grow at their pace and for their own needs. For couples, it helps nurture the relationship as a whole.
Whether you are an experienced Yoga practitioner, or just getting started out on this journey, Sensual Yoga will benefit all who participate and provide each individual and couple exactly what they need as not only an exercise, but to strengthen the unspoken bonds of the relationship.